Wisconsin Right to Life - Rock Chapter
Our Mission...Wisconsin Right to Life Rock County works to educate people about abortion, infanticide, euthanasia, assisted suicide and works for legislation that promotes these pro-life goals.
Chapter Chair: Pat Hawthorne
Email: Pat Hawthorne
Call: (608) 756-5191
Webpage: http://wrtl.org/Rock
July 26 - 31, 2016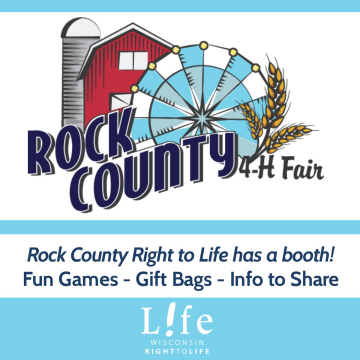 Be sure to stop by to visit the booth while at the fair or if you're interested in helping - contact Email: Pat Hawthorne
Call: (608) 756-5191
CHECK BACK PERIODICALLY
FOR SPECIAL EVENTS & FUNDRAISERS
~~~~~~~~~~~~~~~~~~~~~~~~~~~~~~~~~~~~~~~~~~~~~~~
Donations and Support Needed...
Church representatives are needed to keep your church informed on pro-life issues...
If you are interested in helping in this way, please call and leave a message at (608) 754-2324. Thank you.
To donate to help support our efforts, please send checks to:
Rock County Right to Life
P.O. Box 1386
Janesville, WI 53547-1386
If you would like your donation to be used toward a specific project, please indicate this. We are a non-profit organization with limited funds and we sincerely appreciate any and all help we receive from charitable supporters. Because Wisconsin Right to Life works to enact pro-life legislation, your gift is not tax deductible. However, contributions to the Education Fund are tax deductible.
Meetings
We generally meet on the fourth Thursday of the month at 7 pm.
To Contact Us
Send email to our Chapter Chair, Pat Hawthorne or call (608) 756-5191.