Wisconsin Right to Life - Fond du Lac Chapter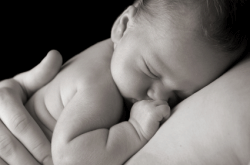 Chapter Chair: Ann Streblow
Email: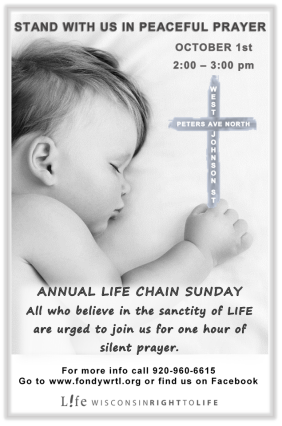 I'll be there - will you?

________________________________________
Are you a pro-life teen who lives in Fond du lac county looking for a way to express yourself?
Deadline to submit your essay is November 15th - so get started now and have a chance to win a cash prize for the top 3 essays!
_________________________________________
Learn about what we do to help reduce abortions
and how you can Help us save more lives
in the coming years!
ATTEND OUR NEXT MEETING
Fondy Teens 4 Life and Chapter Meetings...
Regular meetings are held the FIRST Tuesday of every month
Teens meet at 5:30pm with dinner after between 6-6:30
Chapter meets at 6:30pm -- 8:00 p.m.
St. Agnes Hospital, 430 E Division St., Fond du Lac, WI 54935.
(last entrance on Divison St heading east, lower level -
meeting room is across the hall from the elevator)
_______________________________________________
OUR ANNUAL EVENTS
JANUARY - PRAYER AND PRAISE SERVICE
Join us as we lament the Roe vs Wade decision legalizing abortion.
MOTHER'S DAY ROSES FOR LIFE
If your church isn't currently participating but would like to - please contact Steve Streblow
FDL COUNTY FAIR BOOTH
Fondy Teens 4 Life set up, coordinate and man the booth. If you'd like to help contact
AUGUST - "THANK YOU" PICNIC
OCTOBER - LIFECHAIN
FALL - MICHAEL J WOLFE SCHOLARSHIP ANNUAL ESSAY CONTEST
The essay contest is open to senior high school students.
For more information on any event or for any questions, contact us at:
_______________________________________________
Please join us and learn what you can do to help save lives
WANT TO FIND OUT ABOUT OUR FONDY TEENS 4 LIFE
Teens monthly meeting is at 5:00 pm at the same date and location as the chapter meetings
Contact Bev Searl or call (920) 960-6615 or visit our website
Donations & Support Needed...
Our chapter is looking for volunteers to help out with upcoming chapter special events, the newsletter, phone calling, data entry, updating mailing lists and many, many more volunteer opportunities. You can volunteer as much or as little as you'd like. Just a little time out of your busy schedule...and you will receive many blessings!
If you are interested in donating some skill and/or time, please come to our next meeting, or volunteer on our website.
Legal Documents available:
Health Care Document with Pro-life addendum
Wisconsin Living Will with Pro-life addendum
Videos
Large variety of quality, informational videos available.
Thank you!