Petition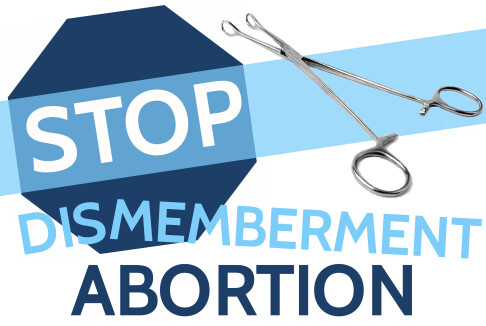 PETITION: Stop Dismembering Unborn Babies!
Dismemberment Abortion (Dilation and Evacuation, or D&E) is a brutal type of abortion with the purpose of causing the death of an unborn child. The unborn child is purposely dismembered and extracted piece by piece from the uterus through use of clamps, grasping forceps, tongs, scissors, or similar instruments that slice, crush, and/or grasp a portion of the unborn child's body to cut or rip it off.
957 second trimester abortions were performed in Wisconsin in 2015 – if Wisconsin follows national statistics, that means approximately 928 unborn babies lost their lives to dismemberment abortions in one year.
Demand an end to dismemberment abortion to save lives!
Scroll down to learn more...
Want to share a printed version of this petition? Download it here. (PDF)
IN THEIR OWN WORDS - ABORTIONISTS:
Dr. Bernard Nathanson, an ex-abortionist who co-founded the group known today as NARAL Pro-Choice America, described the procedure:
"The D&E is performed by breaking the bag of water with a pointed instrument thrust through the partly dilated cervix, then inserting grasping and tearing instruments into the womb. The fetus is then quartered, the torso isolated and disemboweled. The head is crushed and extracted in pieces. The placenta is located and scraped off the wall of the womb. This completes the procedure save for the abortionist reassembling all the removed parts on a side table adjoining operating table. The fetus must be reconstructed to verify that all the vital parts have been removed with nothing of significance left within the womb to perpetuate bleeding and or become infected. Such late abortions – by whatever means – are no small matter surgically and carry a death rate equal to or exceeding that associated with childbirth that term."

Infamous late-term abortionist LeRoy Carhart himself used the word "dismember" when describing the D&E method while under oath in the 2000 Stenberg v. Carhart case:
"My normal course would be to dismember that appendage and then go back and try to take the fetus out whether foot or skull first, whatever end I can get to first….Just pulling and rotation, grasping the portion that you can get hold of which would be usually somewhere up the shaft of the exposed portion of the fetus …I know that the fetus is alive during the process most of the time because I can see fetal heartbeat on the ultrasound."

Dr. Jay Kelinson, an abortionist interviewed for the documentary Eclipse of Reason, was asked whether he would do second trimester abortions, D&E's, even for medical reasons. He said, "No, absolutely not. That is the most horrifying procedure I can think about. There is just absolutely no way I would ever do that."

Dr. Warren Hern, a Colorado abortionist who has performed numerous D&E abortions and has written a textbook on abortion procedures, has stated, "…there is no possibility of denial of an act of destruction by the operator [of a D&E abortion]. It is before one's eyes. The sensation of dismemberment flows through the forceps like an electric current."

University of Michigan abortionist Lisa Harris admits, "Doing second trimester abortions did not get easier after my pregnancy; in fact, dealing with little infant parts of my born baby only made dealing with dismembered fetal parts sadder."

Dr. George Flesh, a former abortionist, wrote, "Tearing a developed fetus apart, limb by limb, is an act of depravity that society should not permit. We cannot afford such a devaluation of human life, nor the desensitization of medical personnel it requires. This is not based on what the fetus might feel but on what we should feel in watching an exquisite, partly formed human being dismembered."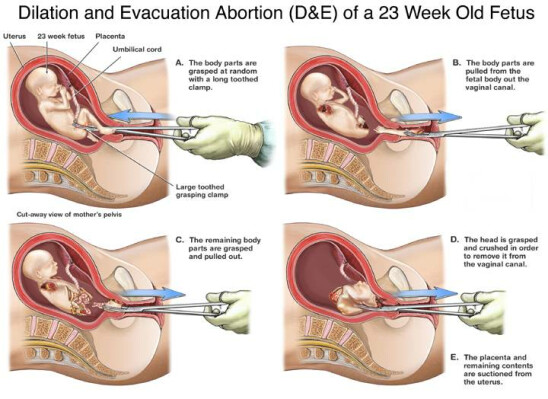 IN THEIR OWN WORDS - Supreme Court Justice Kennedy:
"The government may use its voice and its regulatory authority to show its profound respect for the life within the woman." Gonzales v. Carhart, 550 U.S. 124, 157
"No one would dispute that, for many, D&E is a procedure itself laden with the power to devalue human life." Gonzales v. Carhart, 550 U.S. 124, 158
"Physicians are not entitled to ignore regulations that direct them to use reasonable alternative procedures. The law need not give abortion doctors unfettered choice in the course of their medical practice, nor should it elevate their status above other physicians in the medical community." Gonzales v. Carhart, 550 U.S. 124, 163
"Where it has a rational basis to act, and it does not impose an undue burden, the State may use its regulatory power to bar certain procedures and substitute others, all in furtherance of its legitimate interests in regulating the medical profession in order to promote respect for life, including life of the unborn." Gonzales v. Carhart, 550 U.S. 124, 158
Want more information?
Click here to see the states that have ended dismemberment abortion.
Click here to see a Q&A on protecting unborn babies from dismemberment abortion.
Click here to learn more about the constitutionality of protecting the unborn from dismemberment abortion.
Click here to read the Congressional Testimony of Dr. Anthony Levatino, former abortionist, on what happens during a dismemberment abortion.
Click here to read what the National Abortion Federation has to say about dismemberment abortions.
What if there is an adverse prenatal diagnosis?
Abortion activists will often insist that dismemberment abortion is necessary for unborn children who are diagnosed with a disability or fetal anomaly "incompatible with life." It is imperative that a mother in that situation be provided with the most caring and complete information possible in such difficult situations.
Did you know? Prenatal diagnoses can often be incorrect or inaccurate, unnecessarily putting pressure on a mother to procure an abortion when all she needs is more information about the diagnosed disability, resources to find perinatal hospice or other services, or more time to see if the diagnosis is correct.
Did you know? Regardless of any diagnosis received, abortion is an irreversible decision that cuts short the grieving process and deprives an unborn child of his or her right to life, which exists no matter what condition a child may have.
Learn the stories of Wisconsinites who have faced prenatal diagnoses: